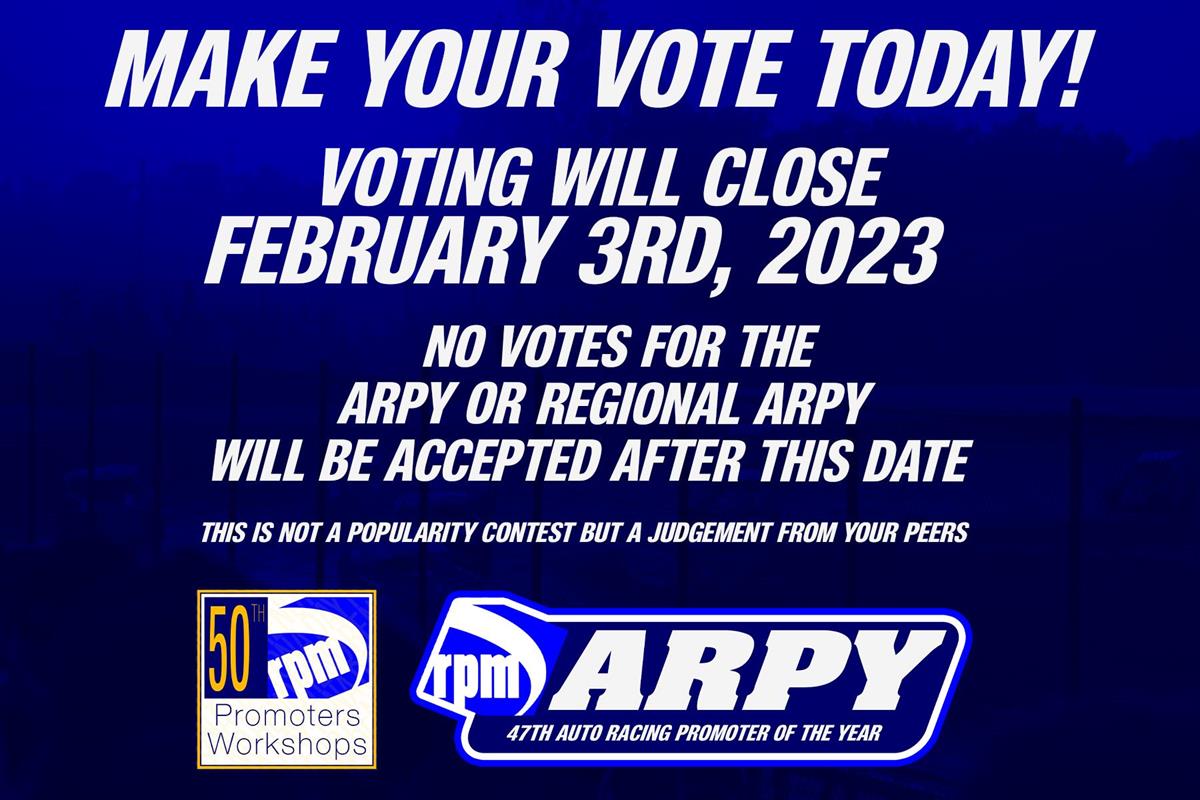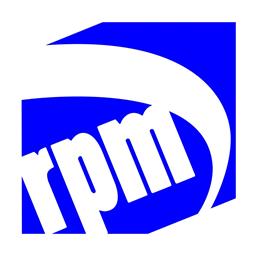 1/18/2023
Racing Promotion Monthly
---
NOMINATIONS SET, VOTING OPENS FOR REGIONAL ARPY AWARDS, THE RPM OUTSTANDING EVENT OF THE YEAR AND THE 47TH ANNUAL AUTO-RACING PROMOTER OF THE YEAR
The nomination ballot has been set for the 47th Annual Auto Racing Promoter of the Year, regional Auto Racing Promoter's of the Year and the RPM Outstanding Event of the Year and is released below.
Voting begins today and will run through midnight on Wednesday, February 1st, 2023 to determine all award winners.
Region 1 Nominees: Lyle DeVore, Albany-Saratoga Speedway, NY; Paul Cole, Land of Legends Raceway, NY; Bobby Webber, Star Speedway, NH; Kolten Gouse, BAPS Motor Speedway, PA; Brett Deyo, Fonda Speedway, NY; Zane Rettew, Buck Motorspports Park, PA.
Region 2 Nominees: Camron Ray, Citrus County Speedway, FL; Tim Bryant, Five Flags Speedway, FL; Jack McNelly, CARS Tour, NC; Scott Tripp, Lakeview Speedway, SC; Garrett Mitchell, Freedom Factory, FL.
Region 3 Nominees: Randy Maggio, Painesville Speedway/Lorain County Speedway, OH; Kevin Gundaker, Tri City Speedway, IL; David Deery, Rockford Speedway, IL; Larry Boos, Montpelier Motor Speedway & Rumble at Fort Wayne, IN; Rex Lejune, Attic Raceway Park, OH.
Region 4 Nominees: Todd Thelen, Slinger Super Speedway, WI; Wayne Brevik, Marshfield Motor Speedway, WI; Terry Tucker, Jefferson Speedway, WI; Steve Sinclair, IRA Sprint Car Series, WI; Toby Kruse & Ratajczak Family, 141 Speedway, WI; Cole Queensland & Queensland Family, Deer Creek Speedway, MN
Region 5 Nominees: Brad Stevens, & Jessi Mynatt, 34 Raceway, IA; John McCoy, Knoxville Raceway, IA; Scotty Allen, Dallas County Speedway, MO
John Allen, 81 Speedway, KS
Region 6 Nominees: Scott & Kim Russell, Placerville Speedway, CA; Dennis Gage, Marysville Raceway, CA; Peter Murphy, Skagit Speedway, WA; Kevin Sustaire, Rocket Raceway Park, TX; Brad Whitfield, Cocopah Speedway, AZ; Tim Huddleson, Irwindale Speedway, CA.
Outstanding Event Nominees: Knoxville Nationals, Knoxville Raceway, IA; Buckeye Figure 8 Nationals, Painesville Speedway, OH; Ironman 55, I-55 Raceway, MO; Brian Mize Memorial, Rocket Raceway Park, TX; Rumble in Fort Wayne, IN; Motor Mountain Masters, Jennerstown Speedway, PA; Fall Classic, 141 Speedway, WI; Spring Sizzler, Stafford Motor Speedway, CT.
The link for balloting is as follows: https://forms.gle/fqZdb6gXsdvvcJvo6 (All regions must be voted for. Ballots may be rejected).
Joe Kosiski, who promoted I-80 Speedway in Greenwood, Nebraska, was introduced as the 46th Auto-Racing Promoter of the Year in February of 2022 at the 49th Annual RPM@Daytona Workshops presented at the Daytona Resort & Spa in Daytona Beach, Florida, representing Region Five, the Great Plains region of RPM balloting.
The 47th Auto-Racing Promoter of the Year Award will be presented at the 50th Annual RPM@Daytona Workshops at the Daytona Resort & Spa in Daytona Beach, Florida, February 12-14, 2022. Reservations may be made at the Shores Spa & Resort (the room block is open until, Monday, January 23, 2023); https://be.synxis.com/?Hotel=17713&Chain=5433&arrive=2023-02-10&depart=2023-02-16&adult=1&child=0&group=2302RPMRAC
The Racing Promotion Monthly (RPM) Newsletter and RPM Workshops provide an educational and networking program to the motorsports industry. The program provides media and meeting platforms which offer promoters, motorsports management, tracks, sanctions and companies a forum to share, educate and network within. The newsletter and workshops are services of Hoosier Racing Tire and K&K Insurance, with supporting sponsorship coming from Chevrolet Performance Products, RACEceiver, Moffet Productions, IMCA Racing, Eldorado Hotel and Casino, Simes Graphic Design, MyRacePass and Firethorn Marketing.
Further information regarding the RPM e-newsletters and workshops may be found at the company's website, www.promotersnewsletter.com
Back to News